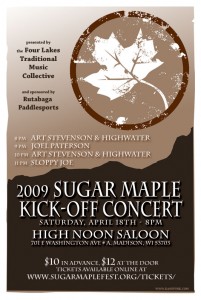 The Four Lakes Traditional Music Collective will be hosting this year's Sugar Maple Kick-off Concert Saturday, April 18th at the High Noon Saloon (8pm). The show, sponsored by Rutabaga Paddlesports, will feature three great bands and offer one night only early-bird Sugar Maple Festival weekend tickets for only $20!!! We will also be officially announcing this year's fantastic Sugar Maple Festival
lineup.
Tickets for the show are $10 in advance or $12 at the door. You can
purchase advanced tickets online
or at the High Noon Saloon. Band Schedule:
8 pm
Art Stevenson & Highwater
9 pm
Joel Paterson
(a rare solo appearance)
10 pm Art Stevenson & Highwater
11 pm
Sloppy Joe
Come on down and see some great music, and get a great price on some Sugar Maple Festival tickets!