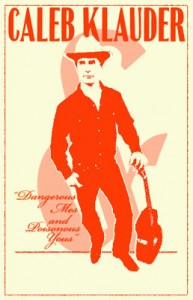 Sugar Maple Alumni Caleb Klauder returns to Madison Wed, July 15th, at the High Noon Saloon with a new band, The Caleb Klauder Country Band. The Portland based songwriter, vocalist and instrumentalist has been performing professionally for over fifteen years and has contributed to a number of successful musical groups, most notably Foghorn Stringband.
Caleb grew up on Orcas Island, Washington, in a small, rural community where the lives of the islanders were intermingled and there were no strangers. Music was the focal point of many social gatherings, and Caleb grew up listening to fellow islanders play folk, rock and jazz music. Caleb fronts his all star Country Band, drawing on his diverse musical background to create a sound that is simple and pure. With pedal steel, fiddles, mandolin, acoustic guitar, upright bass and drums, the Caleb Klauder Country Band captures the sounds of Honky Tonk, Old-Time, Cajun, and Western Swing. To kick off the show as a special treat for the High Noon Saloon and Sugar Maple Fest Fans, Nadine Landry joins Caleb Klauder and Stephen "Sammy" Lind as the
Foghon Trio
in their only appearance on this Midwest tour.