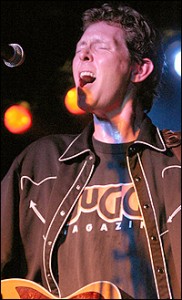 Robbie Fulks, although born in Pennsylvania and spent much of his childhood there and in Virginia and North Carolina, is a Chicago mainstay. The singer-songwriter moved to Chicago in 1983 and joined the bluegrass band, Special Consensus (a Sugar Maple concert series alum). He played guitar on their 1989 Grammy nominated album, Hole in my Heart. Bloodshot Records released Fulks' solo debut, Country Love Songs, in 1996, followed by South Mouth in 1997. To many fans, it was this second album that cemented Fulks as an alternative country artist. In fact, Fulks is known for his disdain of mainstream modern country and the country music industry.
As a songwriter Fulks is difficult to pigeonhole, which is part of his charm. Many of his compositions are silly, funny or satirical songs, while others are serious country songs. One album, 2001's Couples in Trouble from his own company, Boondoggle Records (distributed by Bloodshot), comes off more as an experimental rock album than as country. He followed it up later that year with 13 Hillbilly Giants, a covers collection that spotlighted lesser-known songs from country's earlier days. Most recently, Fulks' recorded an innovative collection of fifty songs,
50-Vc Doberman
, only available online as high-quality DRM free MP3 downloads. This will be Fulks' second appearance at the Sugar Maple Traditional Music Festival. His live performances feature improvised rearrangements of his original songs, off-the-cuff musical humor, and covers of songs by Michael Jackson and Cher, among others. This year, Nora O'Connor will join him on the main stage.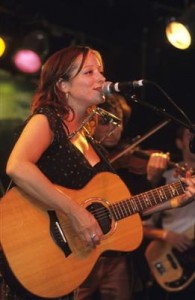 Nora O'Connor, who sometimes went by the name Nora Black as a member of the Blacks, appeared on-stage and on record with Andrew Bird, the New Pornographers, the Aluminum Group, Chris Mills, Otis Clay, Jeff Tweedy, Neko Case, and Mavis Staples. As a first generation Irish-American born and raised on the South side of Chicago, O'Connor's father began her love of music by teaching her a wealth of Irish traditional dance tunes. As O'Connor's diverse interests indicate (not only is she a talented singer-songwriter and guitarist, but a doula, bartender, and ordained reverend as well), she would not be satisfied with performing only Irish traditional music. In 1994, O'Connor joined the Blacks, which brought her to the attention of the alternative country crowd. While taking a break from the band in 1996, O'Connor released her first solo album, Cerulean Blue. She rejoined the Blacks in 1998 to record their debut album, Dolly Horrorshow on Bloodshot Records. This coincided with the release of I Wanna Be Kate, a Chicago-based tribute album in honor of Kate Bush that featured O'Connor's version of
"The Saxophone Song."
By 2000, the Blacks disbanded, but O'Connor was in high demand as a guest vocalist, frequently performing with Andrew Bird. By 2004, O'Connor signed with Bloodshot Records as a solo artist and in August of that year released Til the Dawn. Nora O'Connor will be guest starring with the New Pornographers for a stint of their tour later this year. Robbie Fulks and Nora O'Connor have performed together on numerous occasions, as well as on several recordings, such as "Because You Can" and "Just Too Easy to Cry" off of Fulks' 50-Vc. Doberman. We are lucky to have them on the same stage at this year's Sugar Maple Traditional Music Festival. We hope to see you there!

Robbie Fulks and the Flat Five (which includes Nora O'Connor) perform "Think About Your Troubles".
Robbie Fulks and Nora O'Connor cover Michael Jackson's
"The Girl is Mine"
for the 25th Anniversary of Thriller.