Iowa-and-Alabama native Pieta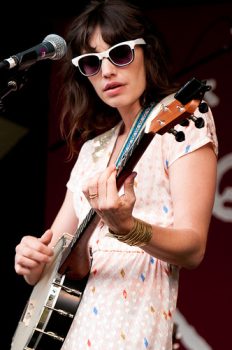 Brown's elegant hybrid of folk, country and sultry swing has entranced listeners lucky enough to have caught one of her countless performances during nearly two decades of touring, or to have listened to any of her seven albums or those she has appeared on for the likes of Mark Knopfler, Calexico, Iris Dement, and Mason Jennings.  Her first exposure to American roots music was through her father, folk icon Greg Brown, and growing up among musicians led her down creative paths of composing songs, writing poetry and, eventually performing her music with others.
While Pieta has virtually made an art form of collaboration, it's no surprise that her songwriting tends to orient itself around the connections between people.  With her ethereal singing and haunting lyrics, set against a background of guitar and banjo twang, Pieta achieves a compelling intensity that is both infectious and profound.
–written by Brad Wolbert