Enjoy a stellar lineup of bluegrass bands, while making Dane County a better place for all!
The Sugar Maple Music Festival is proud to support the 17th Annual United Way Bluegrass Benefit at the Barrymore Theatre, Sunday February 11th.
Six bands and performers are volunteering their time and talents with all proceeds going to United Way of Dane County.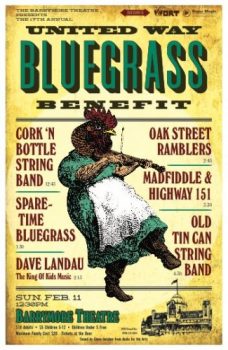 Here's the line-up:
Cork 'n Bottle String Band 12:45 p.m.
Sparetime Bluegrass 1:30 p.m.
Dave Landau The King of Kids Music 2:15 p.m.
Oak Street Ramblers 2:45 p.m.
MadFiddle 3:30 p.m.
Old Tin Can String Band 4:30 p.m.
And while you're sitting back enjoying the music, be sure to get in on the raffle! Purchase your tickets between 1-3:30 pm and five lucky winners will score a pair of tickets to see more amazingly talented artists perform at our upcoming concert series shows or weekend passes to the 15th annual Sugar Maple Music Festival!
Raffle proceeds will be split between the Sugar Maple Music Festival and the United Way.