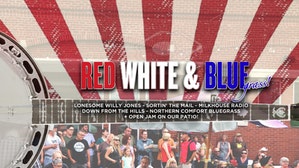 Sugar Maple Music Festival presents Red, White and Bluegrass at the High Noon Saloon on Sunday July 2.
Celebrate our nation with some local bluegrass music this holiday weekend! The afternoon will feature some of the area's best traditional bluegrass inside along with an open-jam outside on the patio.
Willie Jones and his Dime Store Posse Country weepers, crooner classics, more…
Sortin' the Mail  Keepin' the "ass" in "Bluegrass" since 2012… with:
Bobby Batyko, Alex 'The Kid' Genova, Lonesome Willie Jones, Evan Childress and Brad Astor
Milkhouse Radio We're a Madison area stringband specializing in bluegrass and ringing the rafters with country, blues, and fusion covers of whatever strikes us right.
Milkhouse Radio features Brad Astor on Upright Bass, Scott Baumann on Banjo, Michael Farnsworth on Guitar, Jen Paulson on Fiddle, and Bruce Stein on Mandolin
Down From The Hills plays bluegrass music inspired by the likes of Bill Monroe, Earl Scruggs & John Hartford. Our music features both instrumental solos & vocal harmonies. Recently, we've added Cajun music to our shows, with Pat on the Cajun button accordion.
Northern Comfort Bluegrass The group Northern Comfort Bluegrass have spent many years playing and singing bluegrass and traditional country music. Their sound comes straight from the heart and features high lonesome vocals and harmonies, a driving beat, and tight instrumental passages.
Doors open at 12 pm with music starting at 1 pm.  $8 cover