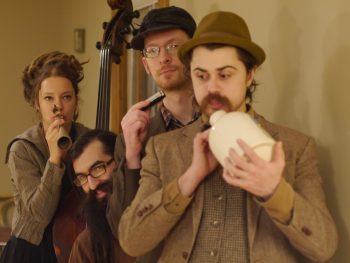 If you like dumps and jugs and bumping, you're going to love the Dumpy Jug Bumpers! But please, don't wear out the name. It's difficult to say and probably shouldn't be uttered around children past a certain age. In fact, when in the company of these musicians, it's best not to speak at all. Just sit back and enjoy the quirky, yet sophisticated, sounds of this captivating old-time string band from Minneapolis, Minnesota.
Like most bands of their ilk, the Dumpy Jug Bumpers make music with a mix of traditional instruments and occasionally, found objects. They've created their repertoire in much the same way, assembling a bricolage of country blues, original mandolin ragtime tunes, and lost pre-war pop obscurities. They're a murder of musical magpies! Seriously, they'll play ANYTHING.
They'll also play ANYWHERE. The Dumpy Jug Bumpers have recently performed at the Minnesota Bluegrass & Old-Time Music Festival, the Gays Mills Folk Festival, and are past winners of the Duluth, MN Battle of the Jug Bands. They play on boats, too. Watch them showboating here on Dumptown Baby Blues and here on Get Out And Get Under The Moon.
Catch the Dumpy Jug Bumpers on the Main Stage at Sugar Maple Fest, Friday, Aug 4th. Expect to see Mumblin' Drew Temperante performing vocals, mandolin-banjo, and guitar, Tony Balluff on clarinet, Josh Granowski on tenor banjo, and Sam Skavnak on bass saxophone. Note: Please DO NOT give sharp objects to any of these musicians, as they've been known to put their lips to or strum the darnedest things in an attempt to play a tune.
Can't make the show? Listen to their albums Dumptown and Dumpin' At The Savoy at www.dumpyjugbumpers.com.
~written by Jennifer Phistry