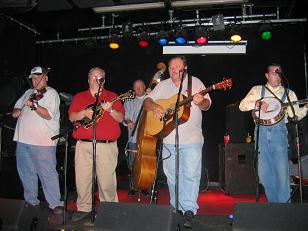 "Everyone" told me I should go see the James King band. I mean everyone. Wendy actually said "they could bring a tear to a glass eyeball." And I believed her. After all, it was part of the Sugar Maple Concert Series, which is a local gold standard I've come to trust.
I decided to check out the James King Web site. I was immediately struck by the pleasing lack of marketing savvy and the distinct aura of authenticity. I read the description on the main page and thought to myself, "really, who doesn't love a good ole foot stomper??" And so it was I attended the James King band at the
Frequency
on Wednesday night. And I feel lucky to have enjoyed him at such an intimate location. James King is the vocalist and guitarist of his namesake band. Like so many good things in life, the James King band is the raw, unfiltered and unmanufactured. He seems to spring like a pure untapped natural resource from the Appalachian hills. This should be no surprise from a man who is an official member of Ralph Stanley's Clinch Mountain Boys. (He played with Stanley in the 80s.) But I can't totally focus on King himself, as he has an impressive line-up in the band as well. Each member deserves kudos, but in this short article, let me focus on what struck me as the highlight: Fiddle player Greg Moore is totally flawless and fierce! We thought he might saw that fiddle in half with his vigorous attack on several numbers. He helped deliver the foot-stompin' promised and raised the level of rhythm exponentially. However the band also particularly shined when it slowed down. They were capable of an intense burn that at times gave me chills, especially when James King approached what he called the "sad and pitiful numbers." With a voice straight from the hills of Virginia and the heart of a born storyteller, he wrings feeling out of every syllable. In "Long Black Veil," "Bed by the Window," "Crazy Heart" and others, I found a purity that cut directly to the emotion bone, wherever that is located. There is a freight train quality to this band that you can't deny or ignore. They give breath to Appalachian folk music with strength and power. James King brings to life to bluegrass stories that might seem trite or esoteric in another man's hands. But King is a skilled master and we are indeed his subjects.
Editor:
In addition, we would like to thank our sponsor for the show, the Eldorado Grill, for their delicious food. James said "This meal itself was worth coming and playing the gig!".