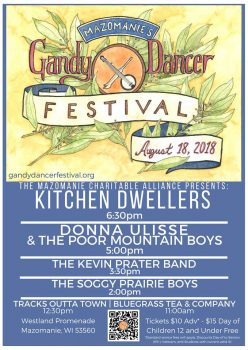 On Saturday, August 18th, Mazomanie will host some of the hottest and most respected groups in Bluegrass, Folk, and Americana music for this family friendly one-day (11am-8pm) festival celebrating the village's railway history.
The Kitchen Dwellers headline the festival and the line-up includes The Kevin Prater Band (2013 Sugar Maple Festival performer.)
The Gandy Dancer Festival is an annual event featuring bluegrass, folk, and other roots music along with family-friendly activities (face painting, model trains, and more) with free parking, food vendors, and many other exciting local attractions in close walking distance.
The origin of the term "Gandy Dancer" is unknown but refers to the track crews who put down and maintained America's vast rail network.
Tickets and details at www.gandydancerfestival.org