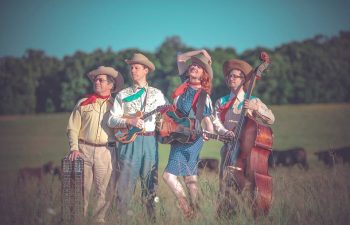 Clean up your cowboy boots and break out your Bolo ties! Nashville's The Farmer and Adele will be swinging by the Sugar Maple Music Festival on August 5th.
Grace Adele (vocals, sock-rhythm guitar), Keenan Wade (mandolin, vocals), Chris Bauer (vocals, steel guitar), and Cody Campbell (upright bass) are famous for performing original songs and covers that will delight anyone who loves that high lonesome sound. So if you like Gene Autry, Riders in the Sky, Bob Wills & His Texas Playboys, John England & the Western Swingers, Homer & Jethro, Ray Price, Don Gibson, or Patsy Cline, don't want to miss The Farmer and Adele.
You can check out for their latest album Into the Wide Open Sky (2015), featuring the legendary country western group Riders in the Sky or click the link below to see what's in store for everyone at the 2017 Sugar Maple Music Festival!
–written by Daniel Seifried
–written by Daniel Seifried