"Jeff Austin blew the crowd away with his standout, electro-driven bluegrass… Austin and his bandmates have reinvented Americana music in a way that moves the genre forward." —jambase.com
Welcomed by the Sugar Maple Music Festival, the Jeff Austin Band will play the High Noon Saloon on Sunday, March 26.  Tickets on sale here.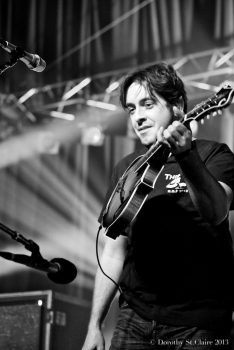 The career of the Colorado-based artist has already seen him break through jam and bluegrass scenes, play stages from The Fillmore Auditorium to Red Rocks Amphitheater, and outdoor events like Telluride Bluegrass Festival and Bonnaroo Music and Arts Festival, among many others. But with the launch of his solo career in 2014, Austin is now building on the foundations of previous ventures while honing his own sound and charting new courses.
"I've learned a lot from the people I've played with," says Austin who has shared stages with such luminaries as Del McCoury, Jerry Douglas, Sam Bush, Earle Scruggs, Jon Fishman, and Phil Lesh. And it's artists such as these who have helped crystalize Austin's idea of what he wants to do as he moves forward with his eponymous project. "From both the rock side and the bluegrass side," he explains, "I've learned a lot about song structure, solo ideas, playing with guts, and being who you are."