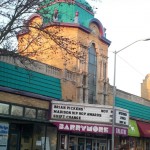 The Four Lakes Traditional Music Collective (FLTMC) in partnership with the Barrymore Theatre
is presenting a series of shows as a benefit for the Sugar Maple Traditional Music Festival. Based in Madison, Wisconsin, the Sugar Maple Festival is a two-day outdoor festival that celebrates traditional music and dance through performances, educational workshops, and interactive jam sessions This family-friendly festival offers entertainment for people of all ages. The diversity of performances invites people of all backgrounds and ages to enjoy and learn about the performing arts in the beautiful setting of a county park.
The Sugar Maple Concert Series will be housed in the Barrymore Theatre Lobby and launches this space as a new venue for small shows. The series include:
Friday, November 9, 2012 – 6:00 – 9:00 PM – $10 ($5 for the first 100)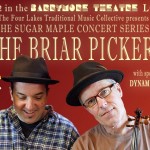 The BriarPickers are a mandolin/fiddle duet from Madison, Wisconsin, featuring Brian Ray and Paul Kienitz. They meld traditional Appalachian style folk melodies with a classical string ensemble approach. This music–dubbed "rustic chamber music"–has a very accessible and welcoming sound. Brian Ray has played with many influential musicians including Mike Compton and Bob Black. Paul Kienitz is a fixture in the Southern Wisconsin Bluegrass and Old Time Music Community adding his wealth of knowledge and skills to numerous projects.
Opening for the BriarPickers is Dynamite Dave. Dave brings this new persona forth in his first Madison performance. We are all waiting to see what will transpire.
Wednesday, November 21, 2012 – 6:00 – 9:00 PM – $10
Frogwater is the acoustic pairing of John and Susan Nicholson. Renowned for their musical virtuosity and exuberant live performances, Frogwater describe their style as eclectic acoustic peoples' music. Honored by the Shepherd Express Reader's Poll and the Wisconsin Area Music Industry, their repertoire spans from Celtic to Delta Blues, Classical to Pop with a healthy dose of unique original material filling out the mix. Their innovative interpretations of traditional tunes span the centuries and the miles and defy categorization.
Opening for Frogwater is Madison musician Willie Jones. A member of the Oak Street Ramblers, Willie uses his vocal prowess and multi-instrumental talents to bring songs to life. He chooses his repertoire from his own songs, his vast knowledge of traditional folk/bluegrass songs and pop
classics. Always delivered in Willie's unique style.
For more information on the Sugar Maple Traditional Music Festival and the Four Lakes Traditional Music Collective (FLTMC), please contact FLTMC at 608-227-8685, via email at [email protected] or by visiting www.sugarmaplefest.org.