Chicago native son Al Scorch brings his roots-punk string band, Al Scorch & The Country Soul Ensemble back to Madison for a 2018 two-fer: an appearance at the High Noon Saloon on March 29, 2018, and a featured spot at this year's Sugar Maple Music Festival on Friday, August 3.  Scorch's live performances are legendary for their energy and drive, as he and his band seamlessly combine bluegrass, punk, folk and roots into a tasty, substantial musical hot dish.
After his early days with his brother in an Irish folk-rock band, Scorch first emerged  as a solo artist and songwriter, leaving his indelible stamp on the Windy City music scene.  His subsequent formation of the Country Soul Ensemble and a series of albums, including his latest, Circle Round The Signs, produced by Bloodshot Records, have fueled Scorch's growing recognition across the US, Canada and abroad as a perceptive and exciting force in American string music.
Al's acknowledged musical influences encompass everything from Beethoven to Dolly Parton, from Woody Guthrie to the Minutemen.  Just when you're catching up with one of his lightning-fast banjo riffs and well-aimed lyrics about social justice, he'll slow it down to a silky, soulful croon about lost love, or a ballad that elegantly morphs from despair to hope.  With his huge voice and natural charisma, and the virtuoso talents of his Country Soul Ensemble, every Al Scorch show becomes an event that audiences don't soon forget.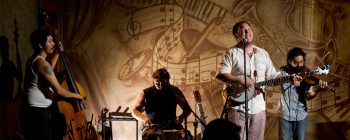 –written by Brad Wolbert