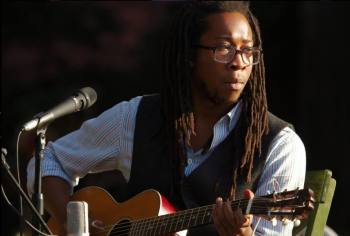 Born and raised in Brooklyn, NY,  Hubby Jenkins got his start as a professional musician busking around the country playing old-time American music. A talented songwriter and multi-instrumentalist, he plays guitar, mandolin, 5-string banjo, and bones.  During his travels he crossed paths with the Grammy Award winning Carolina Chocolate Drops and officially joined the group in 2010.
His solo performance showcases his passion for and knowledge of old-time traditional American music inspired by artists such as Charley Patton, Mississippi Fred McDowell, Blind Blake, and Skip James. To round all this off he shares honest and personal stories that give the audience a glimpse into this music's rich and complex history as well as candidly highlighting the current political climate and need for social responsibility.
Catch Hubby at the Sugar Maple Music Festival on Saturday, August 4, 2018.
–written by Pam Lockstein and Peggy Lewis