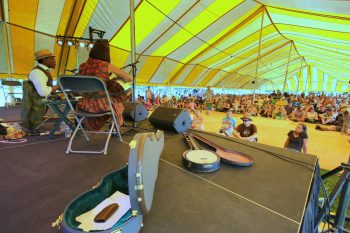 We are less than one week away from the 14th annual Sugar Maple Music Festival.  Are you as excited as we are?!
Whether this will be your first or fourteenth time at the fest, here are some helpful tips:
Want a sneak preview of the fest?  Check out the Dumpy Jug Bumpers at the UW Union Terrace Thursday August 3 from 5-7 pm.
Get your tickets now!  Advance tickets are available through Thursday on-line and at Willy St. Co-op East and West, Whole Foods, Spruce Tree Music, and Orange Tree Imports.
Bring the kids; ages 17 and under are free!
We have food!  This year's vendors include El Grito Taqueria, Melted, Underground Butcher, Wadizzit Traveling Food and Caracas Empanadas (Saturday only). And coffee on Saturday: Let it Ride!
We have drinks!  Beer from Tyranena Brewing Company and mead from Bos Meadery.  Yum, yum!  And all beer $1 off during the Malt House Happy Hour Set at the festival with the Thistledown Thunders and the Dumpy Jug Bumpers!  Friday from 5-7 pm.
Carry-ins allowed but please support our wonderful food and drink vendors!
Bring your instruments for jamming!  This is an interactive festival and your participation is what sets the Sugar Maple fest apart from other music fests! New this year… a beginner's jam tent!
We are a rain or shine event; all of our artists perform under tents or shelters.
Bring a chair or a blanket to sit on.  We have a limited number of chairs, and yours are more comfortable anyway.
Leave all pets at home.  Park
Bring Cash.  We will have an ATM but if you have some $ in your pocket when you come, you will be all set.
We know you're social (we've seen you on the dance floor!) so get on those internets and spread the word…
Join us on Sunday August 6 from 3:30-6:30 pm at the first ever Sugar Maple Music Fest Wrap-Up Party! Hosted by Bos Meadery with music by the Sweet Sheiks.
Schedule and more at www.sugarmaplefest.org