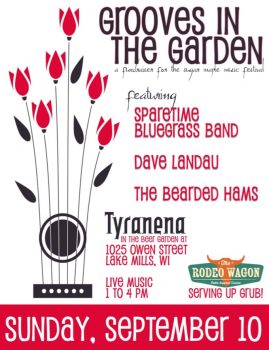 A benefit concert featuring Spare Time Bluegrass Band, David Landau – Children's Entertainer and The Bearded Hams in Tyranena's newly expanded, outdoor Beer Garden.
How is this a benefit? Well, Tyranena is donating $2 from every pint served to the Sugar Maple Music Festival… so grab yourself a glass and support great music! (And great beer, of course.)
Live music beginning at 1 pm with The Rodeo Wagon also on hand serving up southern comfort food such as corn on the cob, Triple Cheesy Mac, and big beef sandwiches!