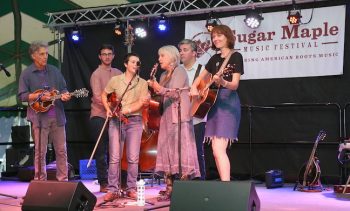 Mark your calendar for the 2018 Sugar Maple Music Festival to be held August 3 and 4 at Lake Farm County Park in Madison. Our 15th annual festival promises the music, dancing, friendship and other activities you love, plus even more ways to celebrate this milestone!
While we're at it, a big thank you to everyone who came out to enjoy our 2017 festival in August. The weather couldn't have been better as we listened to music on the main stage, got to know artists and traditions on the Roots and Reasons Stage and made music together in the jam tents.
Speaking of 2017 Sugar Maple artists, Molly Tuttle was recently named guitar player of the year by the International Bluegrass Music Association (IBMA). Molly, who we also brought to Madison for an intimate show and guitar workshop in January, was the first woman ever to be nominated or win in this category. Congratulations, Molly!
On the topic of award-winning 2017 Sugar Maple artists, we heard from Laurie Lewis after her incredible August performances on our stages. In a note she said "it was a treat for me …. to sit and talk with Bill Malone (on the Roots and Reasons Stage)" then she added … "thank you for all you do to help build and nurture community through music."
We think Laurie said it well. Thanks to all of you – music fans, sponsors, donors, volunteers and more – for helping build and nurture community through music. It takes every single one of you to help make our community – and the festival – what it is.
Sincere thanks for a successful 2017 Sugar Maple Music Festival. What will Sugar Maple 15 bring?
— The Four Lakes Traditional Music Collective