Get ready for some homespun Milwaukee bluegrass! Thistledown Thunders will perform at the 2017 Sugar Maple Music Festival. The band includes Krystal Kuehl (guitar), Johanna Rose (bass), Jack Tell (guitar) and Ernest Brusubardis IV (fiddle). They have been providing toe-tapping bluegrass to Milwaukee and southeastern Wisconsin since 2014.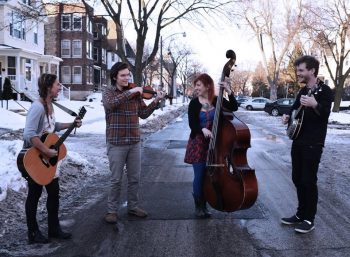 Thistledown Thunders honor traditional bluegrass and folk music while adding a modern touch that makes their music more accessible to a wider audience. Some of their influences include Bill Monroe, Punch Brothers, Ralph Stanley, Earl Scruggs, and Steve Earle.
You've got plenty of time before Sugar Maple Fest to get to know this Wisconsin band, but why wait? Check out their Facebook page and the video below for a preview right now. Look for upcoming shows to attend. For extra credit, drink a beer and say "Thistledown Thunders" three times really fast!
–Written by Daniel Seifried