Studies show that when kids learn music their brains work harder, they have higher test scores and their concentration improves. Not to mention, making music is just plain fun. If these studies are to be believed, Madison's youth string ensemble, MadFiddle, is doing its part to create a generation of joyful geniuses. Led by Shauncey Ali, MadFiddle is receiving the first Sugar Maple Music Festival Scholarship, awarded by the Four Lakes Traditional Music Collective, the volunteer-led nonprofit that puts on the annual Sugar Maple Music Festival.
The Collective strives to make roots and traditional music accessible to people of all ages throughout Dane County and beyond. The $500 scholarship supports MadFiddle's work in fostering musical passion and creating performance opportunities for young people.
"MadFiddle brings roots music to the next generation of players. Music is something they will be able to play and share their entire lives," says Bob Batyko, president of the Four Lakes Traditional Music Collective Board of Directors. "Making the arts available to kids is more important than ever, and Shauncey's ongoing commitment to doing just has touched the lives of countless young people and families."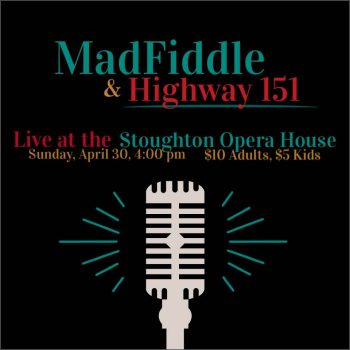 Buy Tickets
The scholarship will be presented during MadFiddle's final show of its spring season, to be held at the Stoughton Opera House April 30. Learn more and buy tickets at the box office before or the day of the show.
Early bird tickets for the 14th annual Sugar Maple Music Festival, to be held Aug. 4 and 5, will be on sale May 1 – June 1. Early bird tickets are almost half the cost of the door price. Buy tickets on Brown Paper Tickets starting May 1.
This scholarship was made possible thanks to a donation from the Francis Johansen Memorial Fund.
About MadFiddle
Founded in 2011, MadFiddle is a youth violin ensemble that explores and performs fiddle music from around the world. The repertoire draws largely upon the traditions of old-time, Appalachian, Celtic, bluegrass and Scandinavian folk tunes, but also includes music composed by some of today's most influential acoustic artists. MadFiddle meets weekly and performs with an energetic backing band called Highway 151. MadFiddle is directed by Shauncey Ali, an award-winning teacher, fiddler, violist and composer who created the program as a way to nurture the alternative string scene in and around Madison, Wisconsin.